First American Uranium Provides Exploration Plan Update with 4 Drill Target Areas & Redrafted Maps for Red Basin Uranium/Vanadium Property
Red Basin Project is ~250 miles north of America's only operating uranium mill
Drill target areas coincide with 1000+ historic holes drilled by Gulf Oil Corporation
Presence of uranium/vanadium deposits indicate potential to become advanced stage project
Vancouver, British Columbia, Sept. 13, 2023 (GLOBE NEWSWIRE) — First American Uranium Inc. (CSE: URM) (FSE: IOR) (the "Company") is pleased to provide redrafted project maps and updates to the Company's exploration plan for its Red Basin Uranium/Vanadium Property in Catron County, New Mexico, USA. The project, which consists of 26 optioned lode claims totaling ~537 acres (~217 hectares), is ~250 miles (~402 km) north of the only operating uranium mill in America.
While the original exploration plan for the Red Basin Project was filed in 2013, First American Uranium's updated exploration plan now includes the following redrafted project map, which shows: the outlines of the Company's 26 lode claims (black); the 4 potential zones to be drilled (Areas 1-4); 1000+ historic holes drilled by the Gulf Oil Corporation in the late 1960s through the early 1980s (red dots); and existing access to the claims by US Forest Service (USFS) roads (blue) and 2-track roads (purple).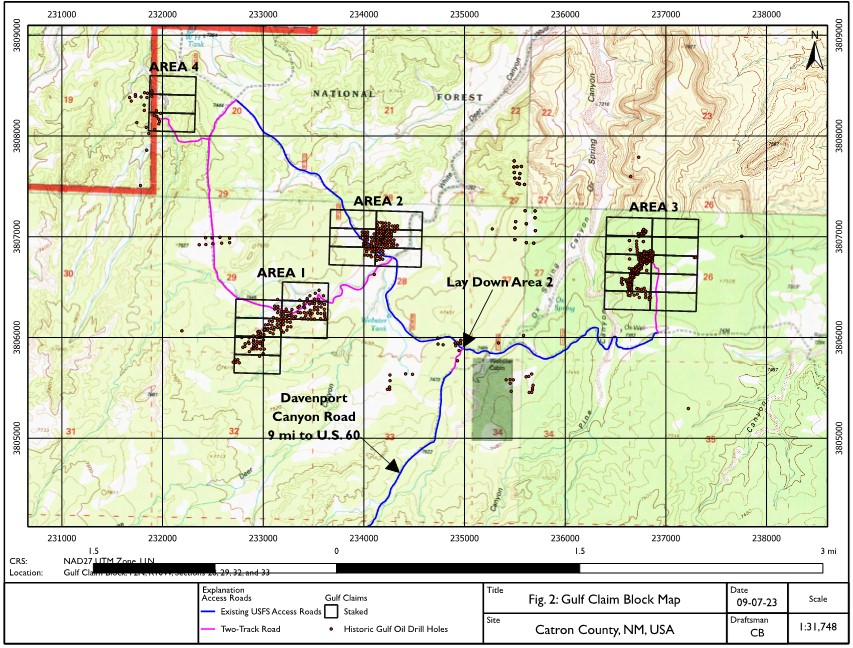 Please click here to view image
The updated exploration plan also includes the following redrafted project map, which shows existing access to the Red Basin Project area from the intersection of Highway 60 and Davenport Canyon.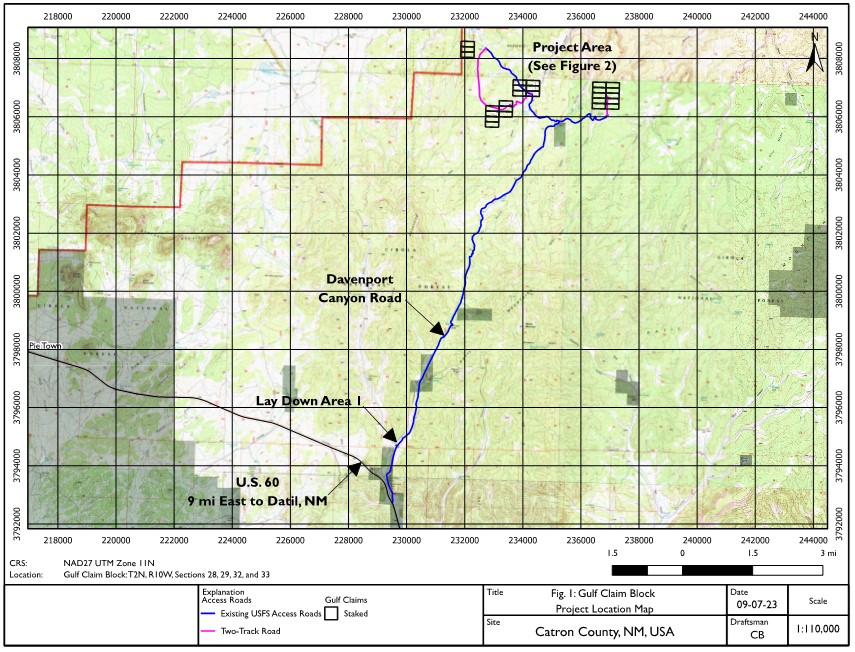 Please click here to view image
The project's region produced 1,194 pounds of U3O8 in the 1950s from ore mined with an average grade of 0.17% U3O8 (McLemore & Chenoweth, 2017). According to the Company's NI 43-101 Report, evaluations of the Company's property from several sources confirm the presence of uranium/vanadium deposits, indicating the potential to become an advanced stage project.
The Company maintains ongoing communication with the Cibola National Forest and National Grasslands, under whose jurisdiction the Red Basin Project's exploration plan falls. The Company will continue to work in good faith with all stakeholders and the State of New Mexico in advancing the property, including complying with all state and federal rules and regulations while conducting exploration activities for uranium and vanadium.
Mr. Frank Bain, P.Geo., First American's consulting geologist and field representative, has apprised the regulators of his deep experience in the region as an exploration geologist, as a mining claim specialist approving Notices and Plans of Operations for the Bureau of Land Management (BLM), and as a state inspector.
"The redrafted project maps and our updated exploration plan, together with our recently received 43-101 recommendations, are important milestones toward advancing our work program to help define the Red Basin Uranium/Vanadium Project's resource potential," said Shawn Balaghi, First American Uranium's CEO. "We're working to create a secure and domestic US-based uranium supply, and we're fortunate to have New Mexico's history of significant uranium production and today's pro-uranium market forces supporting that goal as we move ahead."
Frank Bain, P.Geo., an independent consultant of the Company and a Qualified Person as defined by NI 43-101, has reviewed, and approved the scientific and technical content of this news release.
About First American Uranium Inc.
First American Uranium Inc. is engaged in the business of mineral exploration and the acquisition of mineral property assets in North America. Its objective is to locate and develop economic precious and base metal properties of merit and to conduct its exploration programs on the Silver Lake and Red Basin properties. The Silver Lake property is situated around Goosly Lake and approximately 30 km southeast of the town of Houston, in the Omineca Mining Division, British Columbia. The Company has acquired a 60% interest in a company that indirectly holds a 100% interest in the Red Basin uranium/vanadium mineral claims located in Catron County, New Mexico.
ON BEHALF OF THE BOARD
"Shawn Balaghi"
Shawn Balaghi, Chief Executive Officer
For further information, please contact: Telephone: 604-773-0242
The CSE does not accept responsibility for the adequacy or accuracy of this release.
This press release includes "forward-looking information" that is subject to a number of assumptions, risks and uncertainties, many of which are beyond the control of the Company. Forward-looking statements may include but are not limited to, statements relating to the trading of the Company's common shares on the Exchange and the Company's use of proceeds and are subject to all of the risks and uncertainties normally incident to such events. Investors are cautioned that any such statements are not guarantees of future events and that actual events or developments may differ materially from those projected in the forward-looking statements. Such forward-looking statements represent management's best judgment based on information currently available.